Daily Schedule Template in Excel
This Daily Schedule Template is perfect for keeping records of your tasks, goals, and activities on a daily basis. It's editable and downloadable in Excel.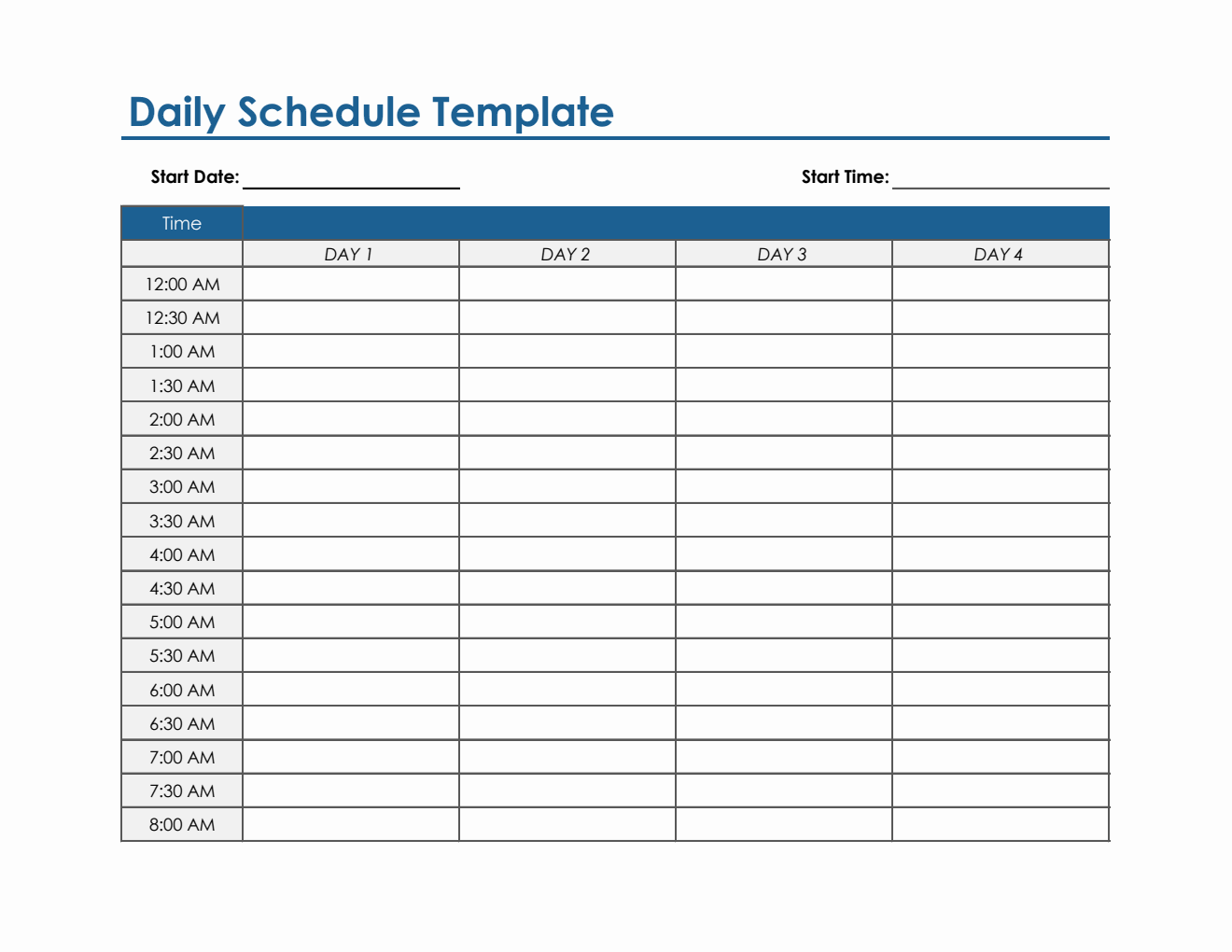 This work schedule template is the perfect tool to use for setting your tasks, goals, or activities on a daily basis. This template can be used as a work planner template or as a personal daily schedule planner. It's available not just for business use but for personal use as well. It's designed in a 24-hour schedule with a 30-minute interval, and can help record your work hours, chores time, leisure time, and other activities for the day.
Get this daily work schedule template in excel to start managing your daily schedule more effectively. It's free to use, edit, or download.
This free employee schedule template has sections for the start date, start time, date, day of week, and time/hourly schedule. It features multiple rows and columns, allowing you to enter all possible tasks/plans you have for each day of the week.
To use this daily work plan template, just enter the start date, start time, and all your daily plans on the blank fields provided. You can plan out your daily tasks for the next seven days as this daily work schedule is designed to cover a week's period. It's also designed with simple features, making it easy to use or customize. Customize this time schedule template according to your needs. You can use it as originally designed, however, if you want to redesign it, feel free to do so.
Instructions in using the Schedule Template:
Enter start date. Once start date is entered, the remaining dates for the week will be automatically generated.

Enter start time. Enter your preferred start time on the section provided. When entering the start time, make sure you put a space between the time and the word AM/PM for the formulas to work. Example format: 7 AM, 1:30 PM.
Once this information is entered, the rest of the daily hours should be automatically filled out for you in a 24-hour schedule, with a 30-minute interval.
List down your daily tasks/activities. Plan out your daily schedule by listing down the tasks/activities you need to achieve at the end of each day. You can plan out your daily tasks for the next seven days, or you can do it one day at a time.

Check or update your daily schedule template. Check your daily schedule template every now and then to remind yourself of your goals/plans for each specific day. For any changes on your daily plans, you can update the schedule template anytime.