Expense
Employee Expense
Expense
Employee Expense
Excel Templates
Employee Credit Card Expense Report Template in Excel
To use this Credit Card Expense Report in Excel format, it is advisable to attach all receipts related to the business expenses spent on the card.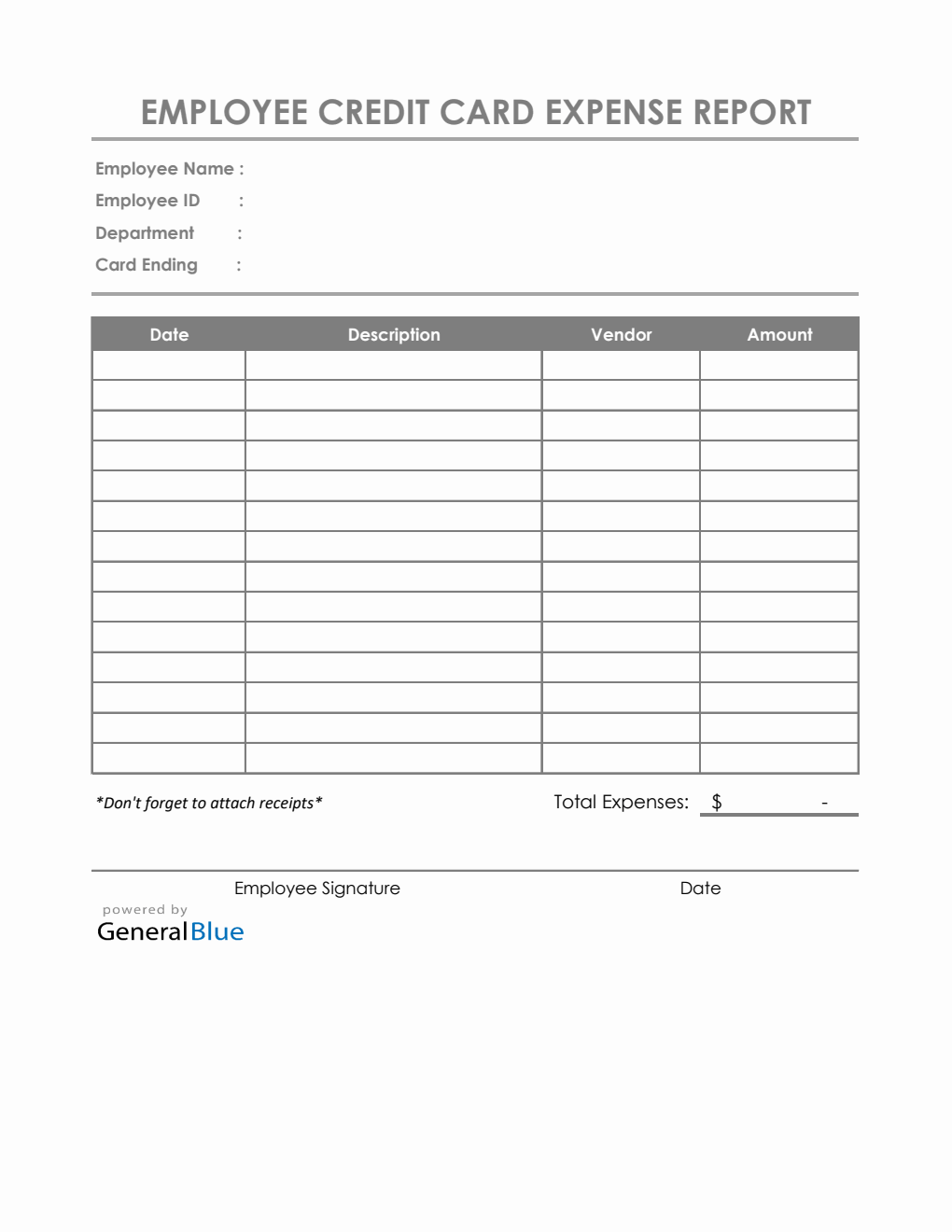 This credit card expense report template can help employees track expenses charge in their credit cards spent mainly for business/work purposes. Receipts of all expenses should be attached along with this form before sending it to the designated company department who would handle the reimbursements.
To complete this credit card expense report, just fill out details on the blank sections provided. Sections featured include employee name, employee ID, department, card ending, date, description, vendor, amount, total expenses, and a section at the bottom part where the employee can attach his/her signature for validation purposes.
This credit card expense in excel is designed with formulas, allowing the template to auto-calculate upon entry of figures under the amount column. This template is the perfect version to use as you can save time when tracking the expenses spent on your card. Just enter the details required in each section and the template will do the calculations for you.
This credit card expense form template can be printed or downloaded for free. To use, refer to the instructions provided below.
Instructions in using the Expense Report:
Enter employee information and last four digits of credit card being used.

Enter date when the expense was incurred.

Enter description of each expense, e.g., specific name of hotel, restaurant, vehicle mileage, etc.

List down the vendor of each expense.

Enter amount paid for each expense. You should enter the total amount paid for each listed expense on the same row. Once these figures are entered, the total expenses section at the lower part of the template should autogenerate the necessary calculations.

Attach employee signature at the lowermost section of the template for validation purposes.

Review, email, or print the completed expense report.