Schedule
Schedule
Excel Templates
Employee Work Schedule in Excel
Use this employee work schedule template to plan out your employees' monthly work schedules. The template is available for edit or download in Excel.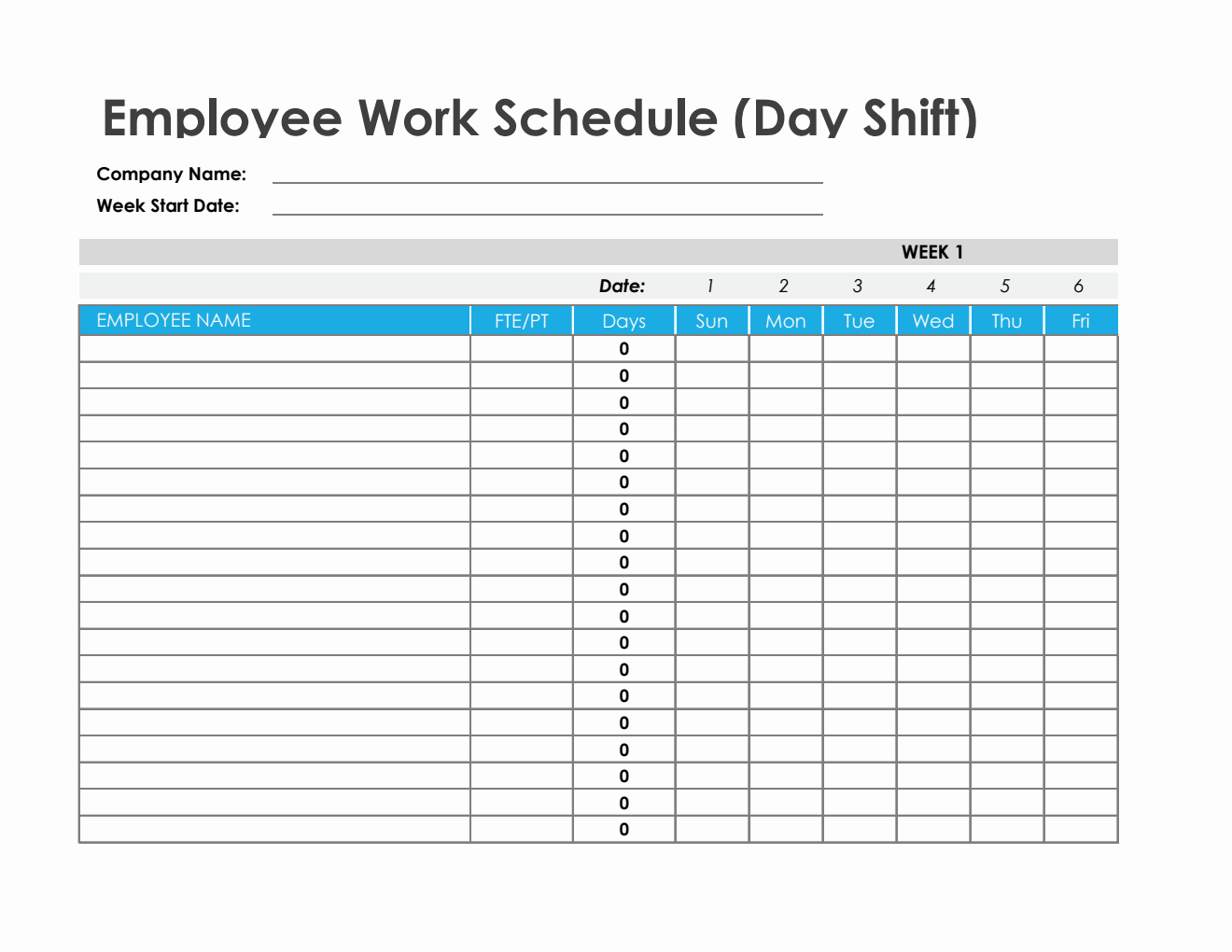 This work schedule is perfect for employers with multiple employees who wanted to plan and track each employee's scheduled working days. This employee shift planner features formulas to give you details on the total number of days each employee is scheduled to work on, and the specific dates and days they're supposed to report at work.
This employee work schedule can cover your employees' monthly work schedules, however, if you want to plan their schedules one week at a time, you can do so. The template highlights five separate weekly tables to cover your employees weekly work schedule. Additionally, this template is designed with two worksheet tabs, one for your day shift employees, the other for your night shift employees. Both worksheets have the same features and functionality.
Considering that this employee schedule excel has built-in formulas, it automatically calculates the total number of days each employee has to work on upon entry of work schedules. These formulas also allow other sections which need computations to auto-calculate. You can save time while planning out your employees' schedules since you don't need to perform any manual calculations.
This employee shift schedule includes sections for company name, week start date, date, day of week, employee name, FTE/PT, and days. The lowermost part displays sections for the shift total, total needed, and total needed to be filled in. Instructions are provided below for your reference.
Instructions in using the Schedule Template:
Enter company name.

Enter week start date. Once start date is entered, the corresponding date and days of each weekly table should be autogenerated.

List the name of each employee.

Fill out the FTE/PT column. Under the FTE/PT column, indicate the employment status of each employee. FTE stands for Full-Time Equivalent while PT stands for Part-Time employment.

Schedule each employee's working days. Schedule each employee's working days by marking an X on specific days you need the employee to report at work. You can either type the X manually or you can use the dropdown arrow provided. Once X is entered, the days column should auto-calculate the total number of working days for each employee.
Additionally, the shift total should also display the total number of employees expected to work on a specific day. The shift total is placed at the lowermost part of the template.
Indicate the total manpower needed. Under the total needed section, indicate the total number of employees/manpower needed for each scheduled working day. Data entered on this section will be automatically subtracted from the shift total. Calculations will be displayed under the total needed to be filled row. This row gives you information on the number of employees you lack for a specific working day. With this information, you can make the necessary adjustments to ensure a smooth and productive workday.

Review the completed template.