Family Budget With Notes in Excel
The Family Budget with Notes is a must-have tool for those who want to leave important notes on their listed expenses. It's available for download in Excel.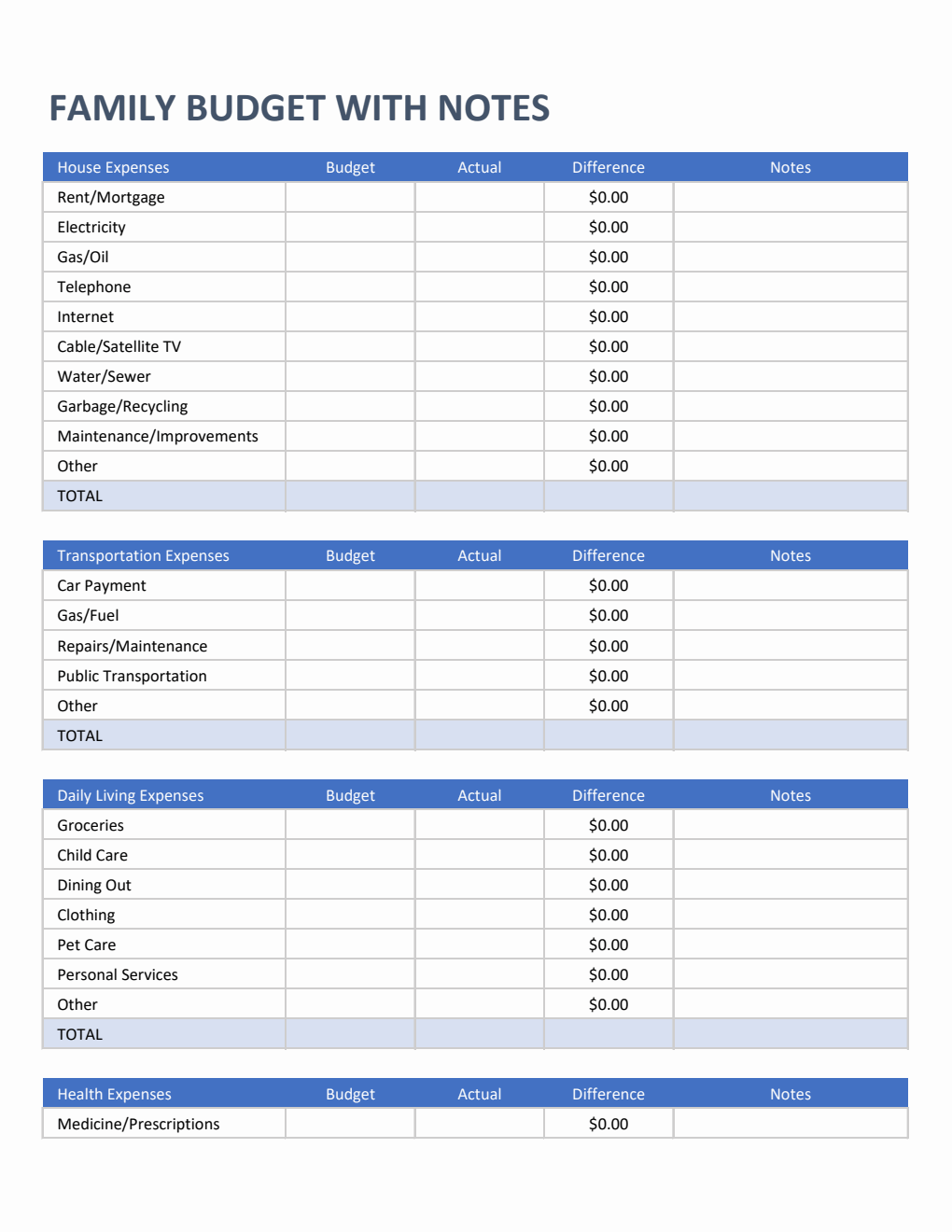 This family expense tracker in excel can be used to track your family monthly expenses, recording both your estimated budget and the actual amount of your expenses. The template is designed with a column for notes, so you can leave important comments/reminders on any of the listed expenses.
For those looking for a family financial planning worksheet, this template is a must-have tool. It features formulas for an auto generation of calculations, making your expense tracking much easier. If this family budget tracker suits your needs, you can edit and download it anytime.
This budget worksheet features all possible expense areas including house expenses, transportation expenses, daily living expenses, health expenses, miscellaneous expenses, and debt/loans. It also has columns for the budget, actual amount of the expense, difference, notes, and total expenses. For further explanation on how to use this excel budget template, refer to the following guide.
Guide in using the Budget Template:
Enter each expense estimated budget and actual amount. In every expense listed, its estimated budget and actual amount should also be entered on the same row. Each expense area has a sample list of expenses, so just enter the estimated budget and actual amount of expenses that are applicable to you.
Areas/sections you don't need can either be left blank or deleted. You can also edit the list of expenses featured in this template to suit your needs.
Check the autogenerated calculations. Upon entry of figures under the estimated budget and actual amount columns, the following sections should autogenerate calculations:
Difference - displays the difference between the estimated budget and actual amount. It should be noted that if the difference amount is displayed in red, it means there's a shortage in your budget.
Total - displays the initial total amount of each expense area
Total Expenses - displays the overall monthly expenses. If you want to look at the total expenses, it's highlighted at the lowermost part of the template.
Add comments under the notes column for any important notes or reminders.

Review the completed expense budget template.