Weekly Budget Planner in Excel (Printable)
Get this free weekly budget planner to effectively manage your weekly expenses. It's editable, printable, and downloadable in Excel, with a Printable design.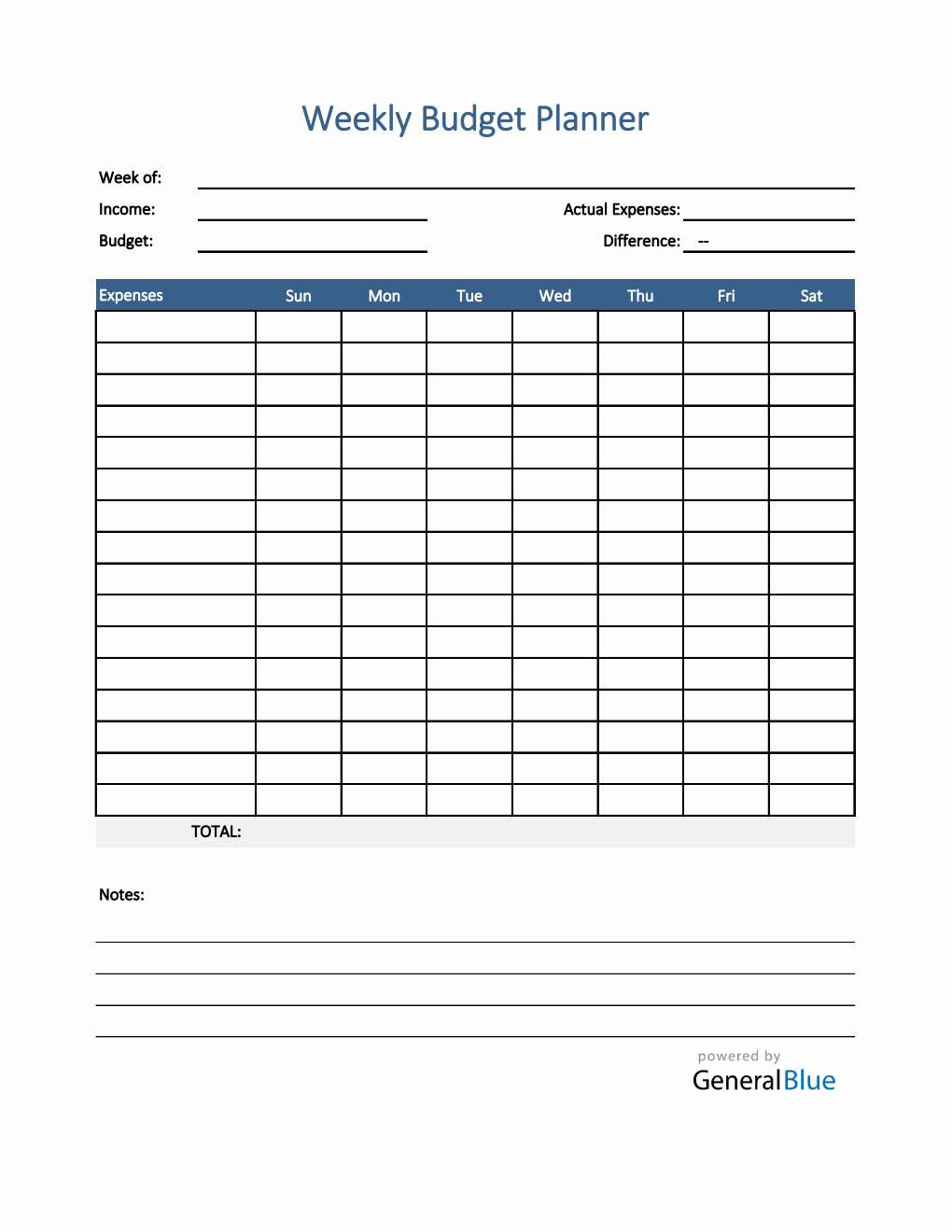 Download this Printable weekly budget planner for a better management of your finances. This budget planner can be used to track your expenses within a seven-day period. To use, fill out details on the blank sections provided. This budgeting spreadsheet includes sections for the week period, income, budget, actual expenses, difference, expenses, day of week, total expenses, and notes. A section for notes is provided so you can enter any important comments/reminders for the week.
With simple features, you can easily track your weekly expenses and savings. This excel budget template is also designed with formulas so your weekly expenses will be auto calculated.
If this budget template suits your needs, you can download it for free. It's editable, printable, and downloadable in Excel. You can use it as originally designed, or you can also use it as reference for creating your own weekly budget sheet. Instructions are provided below for your reference.
Instructions:
Enter the week period.

Enter your income. Enter amount of your income on the section provided.

Indicate your budget for the week. Indicate how much your estimated budget is for the next seven days.

List down your weekly expenses. Under the expenses column, list down all expenses you will be spending for the whole week, e.g., groceries, gas, internet, etc.

Enter amounts for each expense. For each expense listed, its corresponding amount should also be entered on the same row. Once these figures are entered, weekly expenses should auto-calculate.

Review your weekly expense budget summary. The summary for your weekly expense budget should be displayed at the topmost part of this template. It should cover the following sections:
Week period
Income – which displays your weekly income
Budget - which displays your estimated budget for the week
Actual Expenses – which displays your overall weekly expenses
Difference – which displays the difference between your estimated budget and actual expenses. It should be noted that if the difference is displayed in red, it indicates shortage of your weekly budget.