Receipt
Sales Receipt
Receipt
Sales Receipt
Word Templates
Basic Receipt Template in Word
Free Basic receipt template in Word format. It is printable, editable, downloadable, and free to use.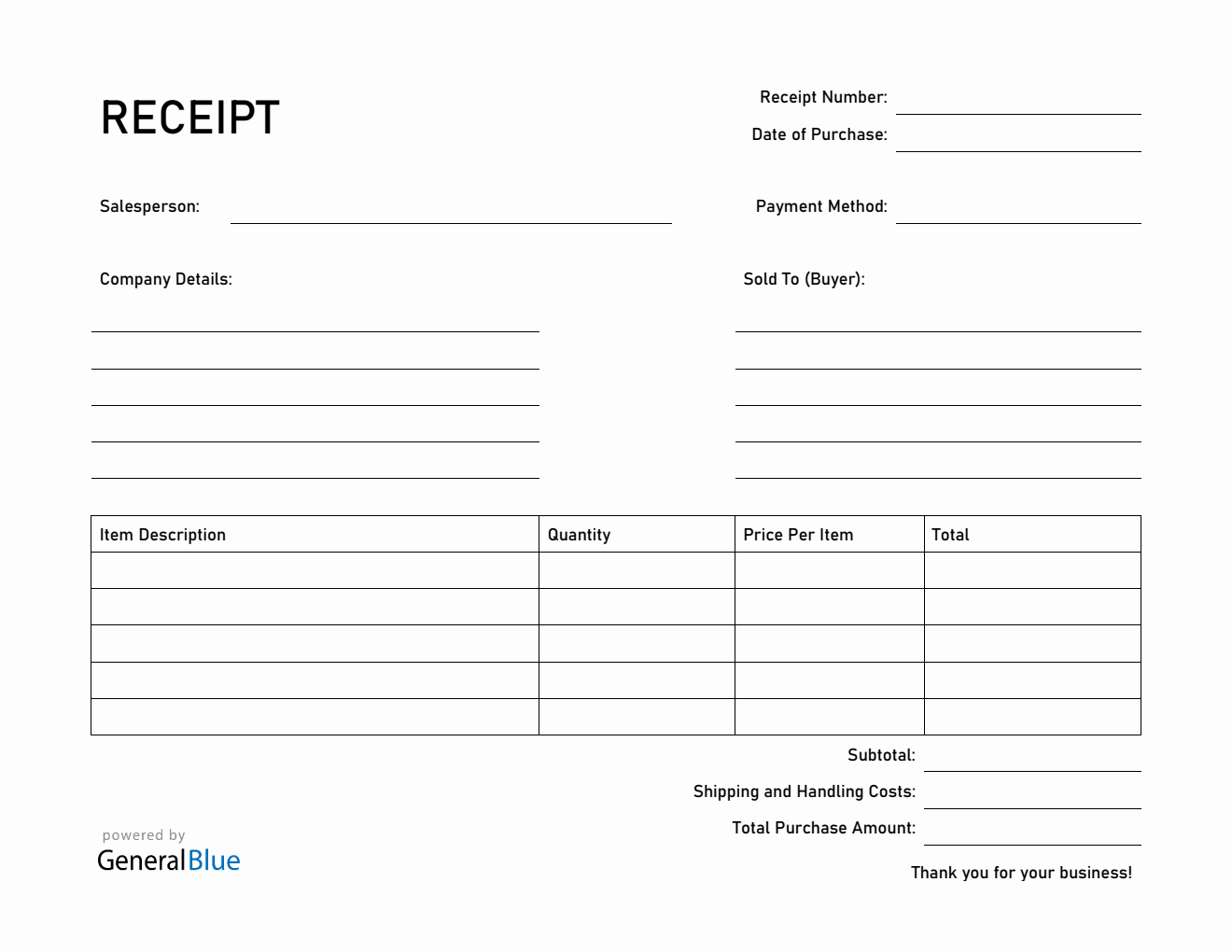 General Blue provides free receipt templates which you can use when dealing with various business transactions. All receipt sample templates featured are free to use, print, edit, or download.
This receipt template in Word will record whatever transactions are made between you (as a seller) and your customers (as the buyer).
The template has sections for the receipt number, date of purchase, salesperson, payment method, company details, sold to (buyer), item description, quantity, price per item, total, subtotal, shipping and handling costs, tax rate, tax amount, and total purchase amount.
Our blank receipt in Excel has built-in formulas which automatically calculate the total amount for all goods or services sold. You may get this version and let the template handle all necessary calculations for you.
---
Instructions:
Fill out the receipt number, date of purchase, salesperson, and payment method. This is indicated at the top section of the receipt template. Here, you need to indicate the receipt number, date when the purchase was made, the person who handled the transaction, and the payment method used by the customer (e.g., cash, credit card, or others).

Enter your company information. Enter your name (or company name) and business address in this section. It includes the street address, city, state, zip code, and phone number.

Enter the sold-to information. Enter the billing address of the person or company whom you have sold the goods/services to. The sold-to information includes the customer's or client's name (or company name), their address – city, state, zip code, and phone number.

List all the goods/services sold to your client under the item description column.

Indicate the quantity and price for each listed item.

Enter the tax rate (%).

Enter the shipping and handling costs (if applicable). The shipping costs will be automatically added to the total purchase amount along with the subtotal and tax amount ($).