Asset
Asset Tracking
Department Asset
Asset
Asset Tracking
Department Asset
Excel Templates
Department Asset Tracking Template in Excel
The Department Asset Tracking Template in Excel is helpful in terms of tracking departmental assets. It's a reference for your company's overall assets.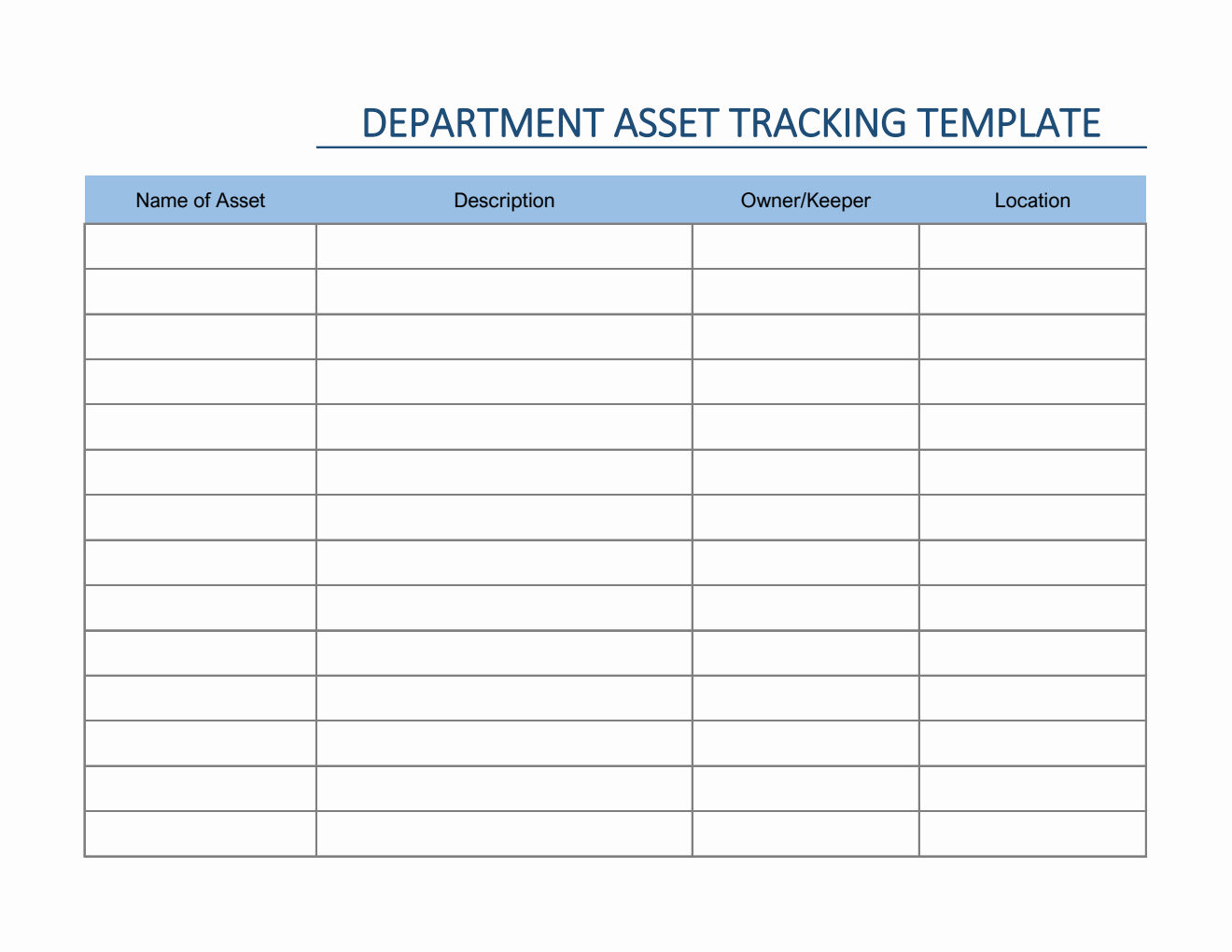 If you're looking for an inventory tracker that could track your departmental assets, this template is perfect for you. The Department Asset Tracking Template lets you record all types of assets assigned within specific department in your company or organization. Although having a general Asset Tracking Template listing all of your organization's assets is a wise move, it's definitely a great help to have another template recording just your departmental assets. Through this, it's easier to track the number of assets assigned for each department.
This asset tracking spreadsheet is very easy to use, and downloadable in Excel. Fields/columns that need to be filled out include the following:
Name of Asset - refers to the name of the item/asset

Description - where important details of the item/asset should be entered

Owner/Keeper - refers to the person or department responsible for keeping the asset

Location - refers to the current location of the asset. It could be the Department name that keeps the asset, or the specific room number where it was kept.

Serial # or Other Identifier - refers to the unique number assigned on each product item. Enter the asset's specific serial number or other identifier under this column.

Who can access the asset - refers to the people/department who are granted access on a specific asset.

Risks/Impact - refers to the risks/impact a specific asset is subjected to, e.g., safety risks, privacy impact, loss of availability, etc.

Key Asset - determines if the listed asset is a Key Asset or not. Under this section, you may type Yes/No, depending on the significance of the listed asset for your department.
For a printable department asset tracking template, it is recommended to use the PDF or Word version of this template.