Expense
Project Expense
Expense
Project Expense
PDF Templates
Employee Project Expense Report Template in PDF
This Project Expense Report in PDF format is great for tracking all business expenses spent by the employee to finish a specific task/project.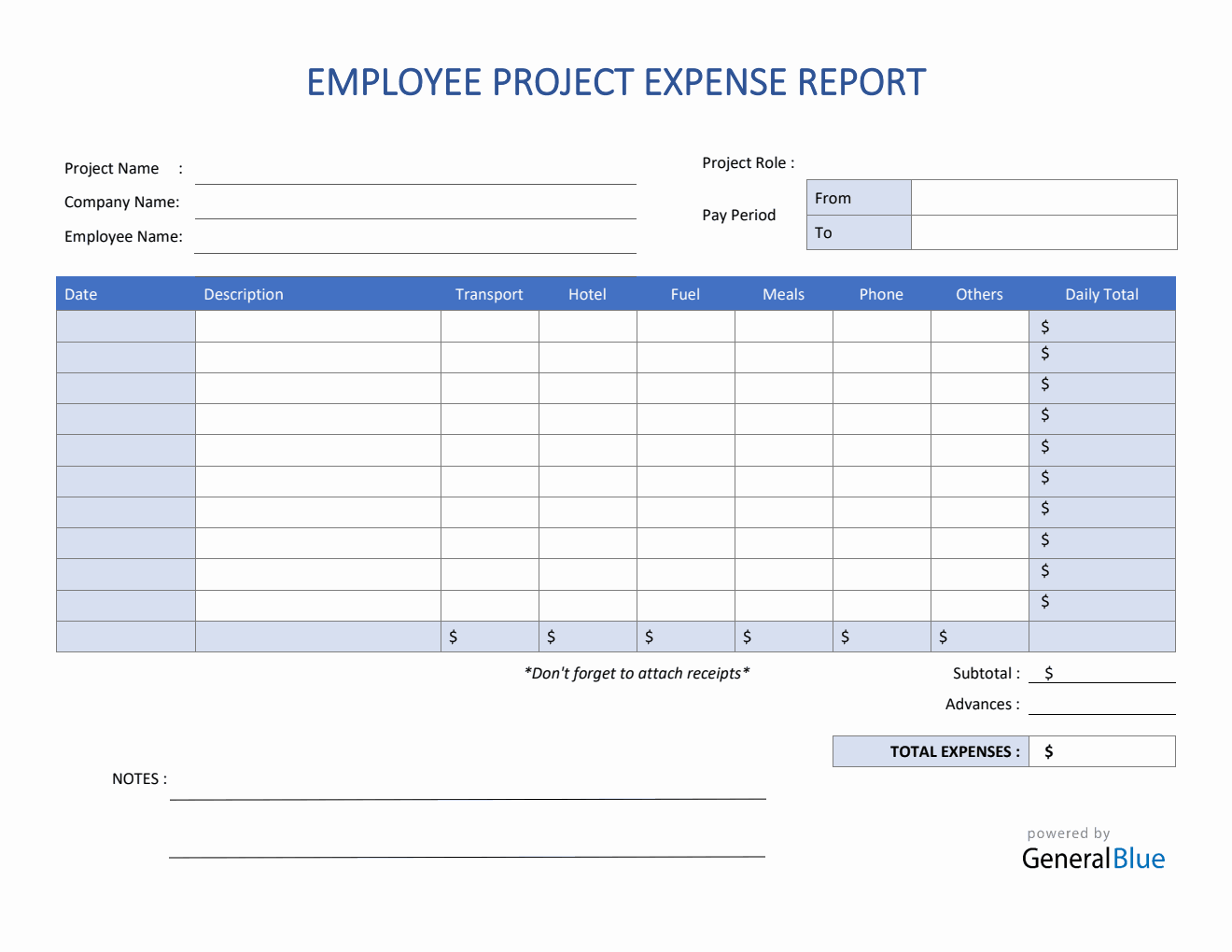 This employee project expense report can be used to track expenses spent by the employee while executing a specific task/project. It features several types of expense areas to give the employer comprehensive details on specific expenses spent by the employee while doing the project.
Edit, print, or download this project spending tracker in PDF format. To complete, just fill out the blank sections provided. This expense tracker features sections for project name, company name, employee name, project role, pay period, and notes. A separate table is also provided to highlight all employee expenditures which include the following sections/columns:
Date - refers to the specific date when the expense was incurred

Description - refers to the specific description of each expense, e.g., specific name of hotel, restaurant, vehicle mileage, etc.

Expense Type - indicates the type of expenses spent by the employee, i.e., transport, hotel, fuel, meals, phone, or others

Daily Total - displays calculation of the total expenses spent on a daily basis

Subtotal - sum of the daily total

Advances - if an advance payment was made by your employer, you may enter that under this section. That amount should be deducted from your total expenses.

Total Expenses - is the section that should display the total expenses spent by the employee minus any advance payment made by the employer
Get this project expense tracker to help track your project expenses. The template is free to download, print, or edit, and can be customized easily. You can download and edit it in your phone, laptop, or tablet. Feel free to also change any of the labels/headings featured in this expense tracker based on your needs.
The project expense tracker excel is the recommended version for those who want an auto-calculated expense report.