Expense
Travel Expense
Mileage Expense
Employee Expense
Per Diem
Expense
Travel Expense
Mileage Expense
Employee Expense
Per Diem
Word Templates
Employee Travel Expense Report Template in Word
Use this Travel Expense Report in Word to get reimbursements from all expenses spent during your trip. Receipts should be attached along with this form.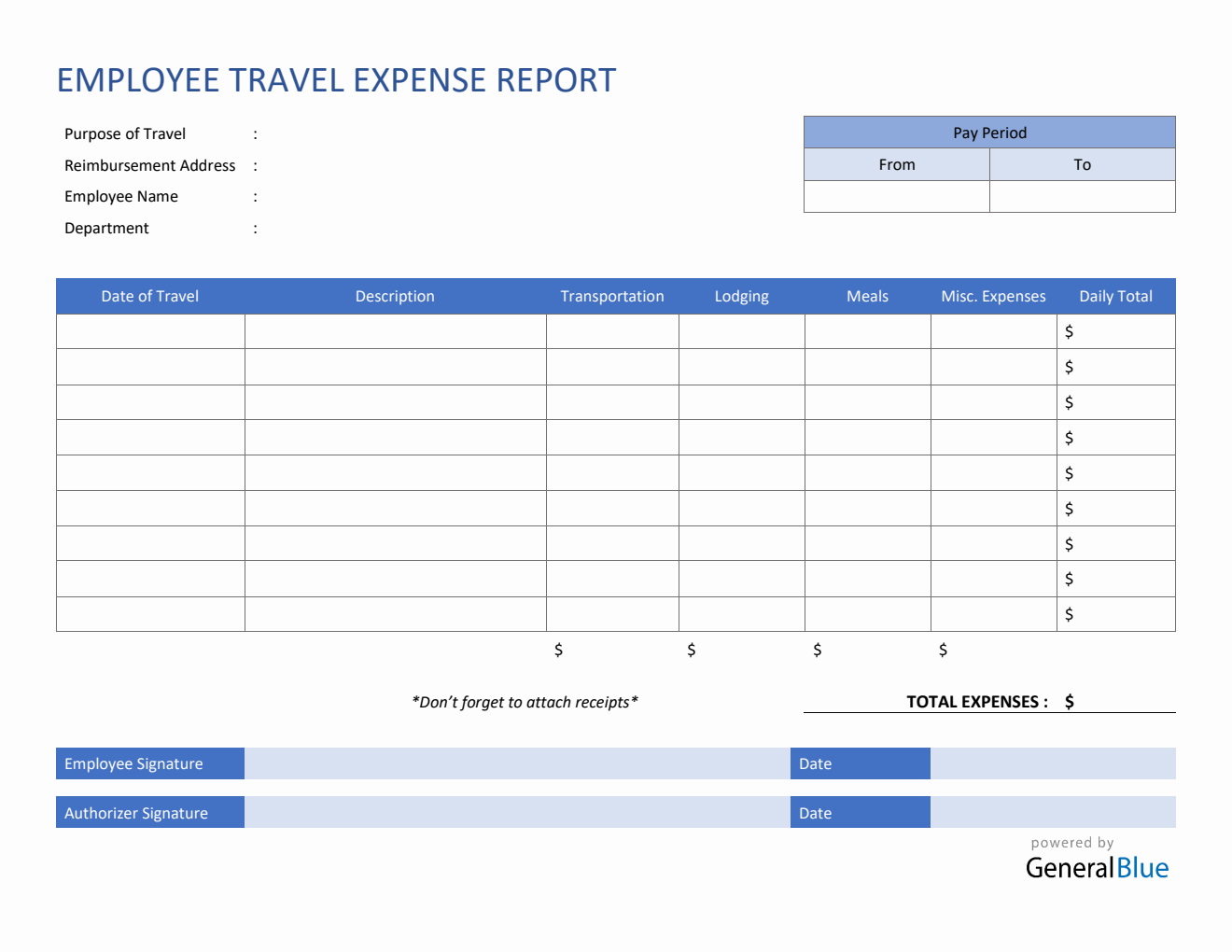 Employees going on a business trip are expected to submit a travel expense report to their employers after returning from the trip. This is primarily done for the employees to get travel expenses reimbursement from their employers. At the same time, this is also a way for the employers to track and keep records of such expenses. With that, this template would be a great help to you. You can use this travel expense report form as originally designed or as reference for creating your own expense report.
Edit, print, or download this travel and expense tracker in Word format. It's the perfect tool for tracking your travel expenses. It's also designed with light colors and can be customized easily. You can download and edit it in your phone, laptop, or tablet.
Complete this expense tracker by filling out details on the blank sections provided. It features sections for purpose of travel, reimbursement address, employee name, department, pay period, employee signature, authorizer signature, and date. A separate table is also provided to highlight all employee expenditures which include the following sections/columns:
Date of travel - refers to the specific date of your trip

Description - refers to the specific description of each expense, e.g., specific name of hotel, restaurant, vehicle mileage, etc.

Expense Type - indicates the type of expenses spent by the employee, i.e., transportation, lodging, meals, and miscellaneous expenses

Daily Total - displays calculation of the total expenses spent on a daily basis

Total Expenses - is the section that should display the total expenses spent by the employee
Receipts of all expenses should also be attached along with this travel expense sheet before sending it to the designated company department who would handle the reimbursements. Feel free to also change any of the labels/headings featured in this expense tracker based on your needs.
The excel travel expense template is the recommended version for those who want an auto-calculated expense report. It's designed with formulas; therefore, calculations are autogenerated.