Simple Invoice with Tax in Excel (Printable)
This free simple Excel invoice automatically calculates tax for you based on the applicable tax rate.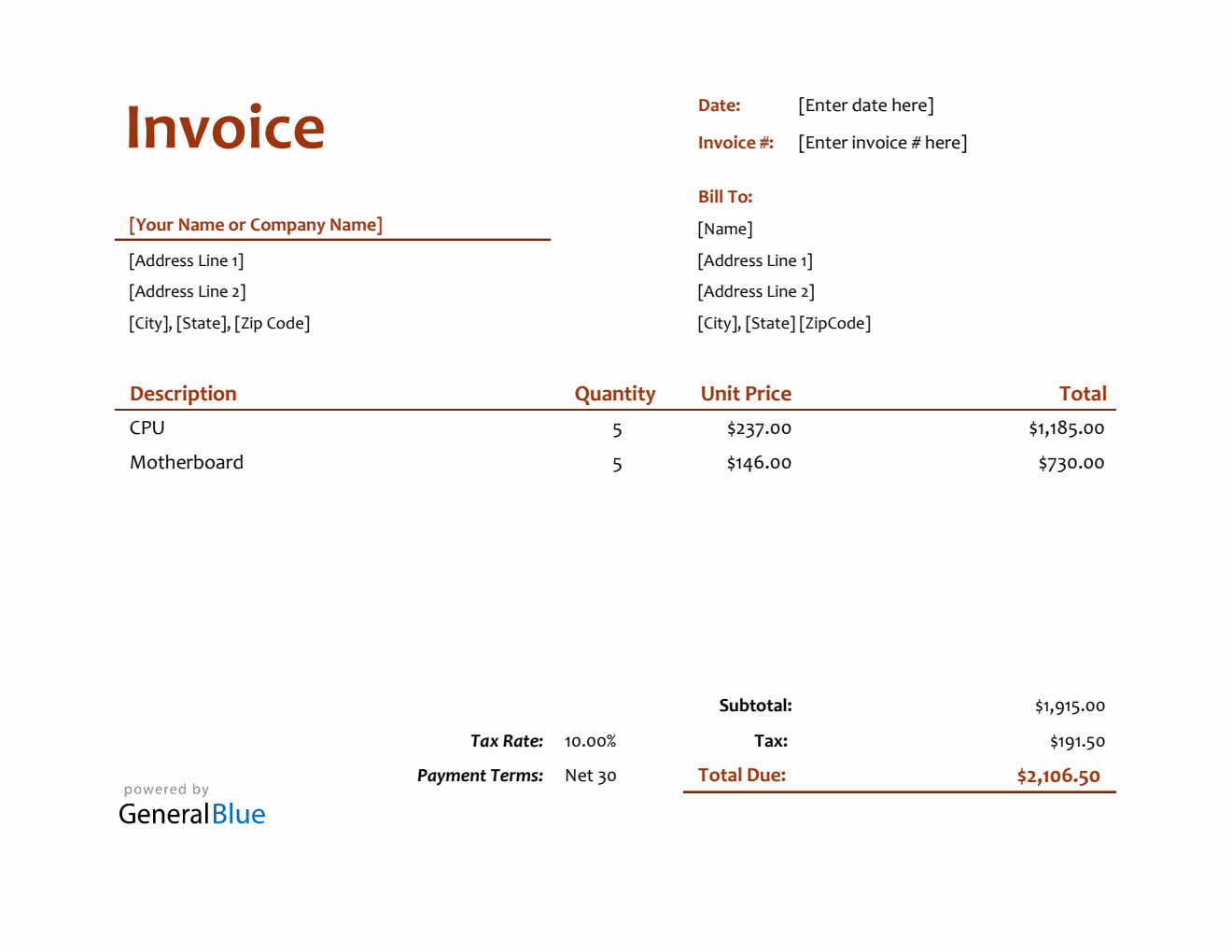 This invoice with tax rate calculation is available in multiple formats and themes. It is downloadable in Excel format. It is particularly in Printable design. All invoice templates have the same easy to use features – editable, printable, shareable and downloadable for free.
The Excel version of this invoice template includes automatic calculation for the tax rate and the total amount due. To complete your invoice, you only need to fill out very basic information such as date, invoice number, company information, bill to information, product description, quantity, unit price, payment terms, and the tax rate percentage. All templates (found below) have automatic calculation for the total amount and the tax rate based on the details entered.
Instructions
Fill out the Date and Invoice Number. Enter the date when the invoice is created as well as the specific invoice number for your client.

Fill out your company information. Enter the company name, address, city, state, and the zip code of your company.

Input the "bill to" information. Enter the name, address, city, state, and the zip code of the company or person whom you are sending the invoice to. This section refers to the business details of the person/company who bought products/services from you (or your company).

List the product or service items under the description row. In this section, list the products/services you have sold to the company or person you are billing to. In each description/product item, there will be a corresponding quantity, unit price, and total in the same row. No need to manually calculate for the total amount as it will be automatically generated for you based on the quantity and unit price you will enter on the next step.

Enter the quantity and unit price for each product/service item. After listing each product item, you also need to enter its corresponding quantity and unit price. Once entered, the total amount for each product item will be automatically calculated for you.

Enter the tax rate applicable for you. This section is found at the bottom part of the invoice. Tax rate may vary depending on the country, state, county, and city. Upon entry of the tax rate percentage, the actual dollar amount will be automatically calculated.

Enter the payment terms. Usually, payment terms are indicated in the contract that is agreed and signed by both parties. Here, you need to indicate the payment terms that you and your client have agreed to. Most common payment terms in the United States include Net30 or Net15.

Review, share, or print the final invoice template.