Invoice
Customer Invoice
Uk Invoice Template
Invoice
Customer Invoice
Uk Invoice Template
Excel Templates
Invoice Template for U.K. in Excel (Purple)
This simple invoice in Excel can help those who need an invoice template for UK. It's in Purple design and can be printed or downloaded for free.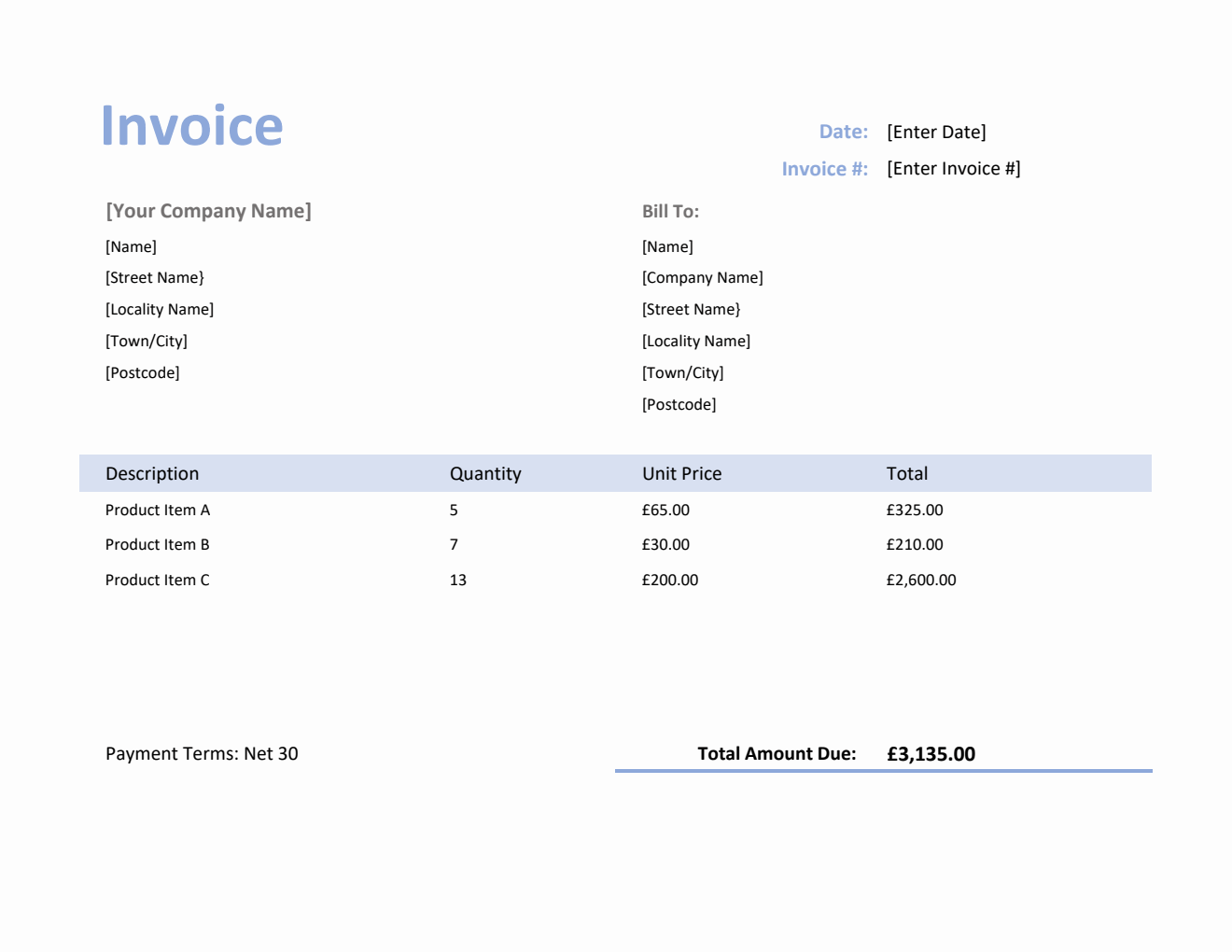 The printable invoice template UK Excel is designed for those who need an invoice template for UK. It can be used to request faster payments for all goods/products sold to your clients or customers. This template uses the local currency formatting for the UK.
Download this template anytime. It's available in different themes and formats, but all share the same easy-to-use features. The Excel invoice template UK in Purple design auto-calculates the total invoice amount of goods, products, or services sold. It's convenient to use as it has built-in formulas. While sections with formulas are noneditable, the rest of the template are customizable. Designed with simple features, customizing this template is made easier for you.
The simple invoice template only requires very basic information to complete. Sections featured include the date, invoice #, where the invoice came from, bill-to address, description, quantity, unit price, total, total amount due, and payment terms. Use this blank invoice template UK as originally designed, or you can also use it as reference for creating your own invoice template. It's free to use, edit, print, or download.
Instructions:
Fill out the date and invoice number. This is indicated at the top section of the invoice template. Here, you need to indicate the date when the invoice is created as well as the invoice number for your client. The invoice number usually starts with 1 and increments over time. If you have a long-term contract with your client, it is an essential part of your invoice as it helps in tracking all invoices.

Enter your company information. Enter your company name and business address in this section. It includes the street name, locality name, town/city, and postcode.

Enter the bill-to information. Enter the billing address of the person or company whom you have sold the goods/products to. The bill-to information includes the name (or company name) of your client, their street name, locality name, town/city, and postcode.

List all goods/products sold to your client. Under the description column, list all the goods/products sold to your client or customer. Each item listed should have a corresponding quantity and unit price entered on the same row.

Input the quantity and unit price for each item listed. After listing down all the goods/products sold, you should enter its corresponding quantity and unit price on the same row. Once these details are entered, sections for the total and total amount due should auto-calculate.

Enter the payment terms. Enter the agreed payment terms between you and your client. Most common payment terms are Net 30 or Net 15. Net 30 means your client has 30 days to complete the payment, and 15 days for Net 15.

Enter your payment details. Some of the templates provided by General Blue includes section where you can indicate your bank information for online payments. It includes your bank account name, account number, and other necessary banking information you need to provide your client for payment processing.
If you prefer your invoice not to have the payment details and terms and conditions, just delete this section of the template. If you have a different means for payment processing that you like to include in your invoice, this is the section where you can modify, whatever applies for you.
Other Styles Available...