Checklist
Inspection
Checklist
Inspection
Excel Templates
Excel Workplace Inspection Checklist
This Workplace Inspection Checklist is a blank form you can use for your workplace inspection. It's available for edit or download in Excel format.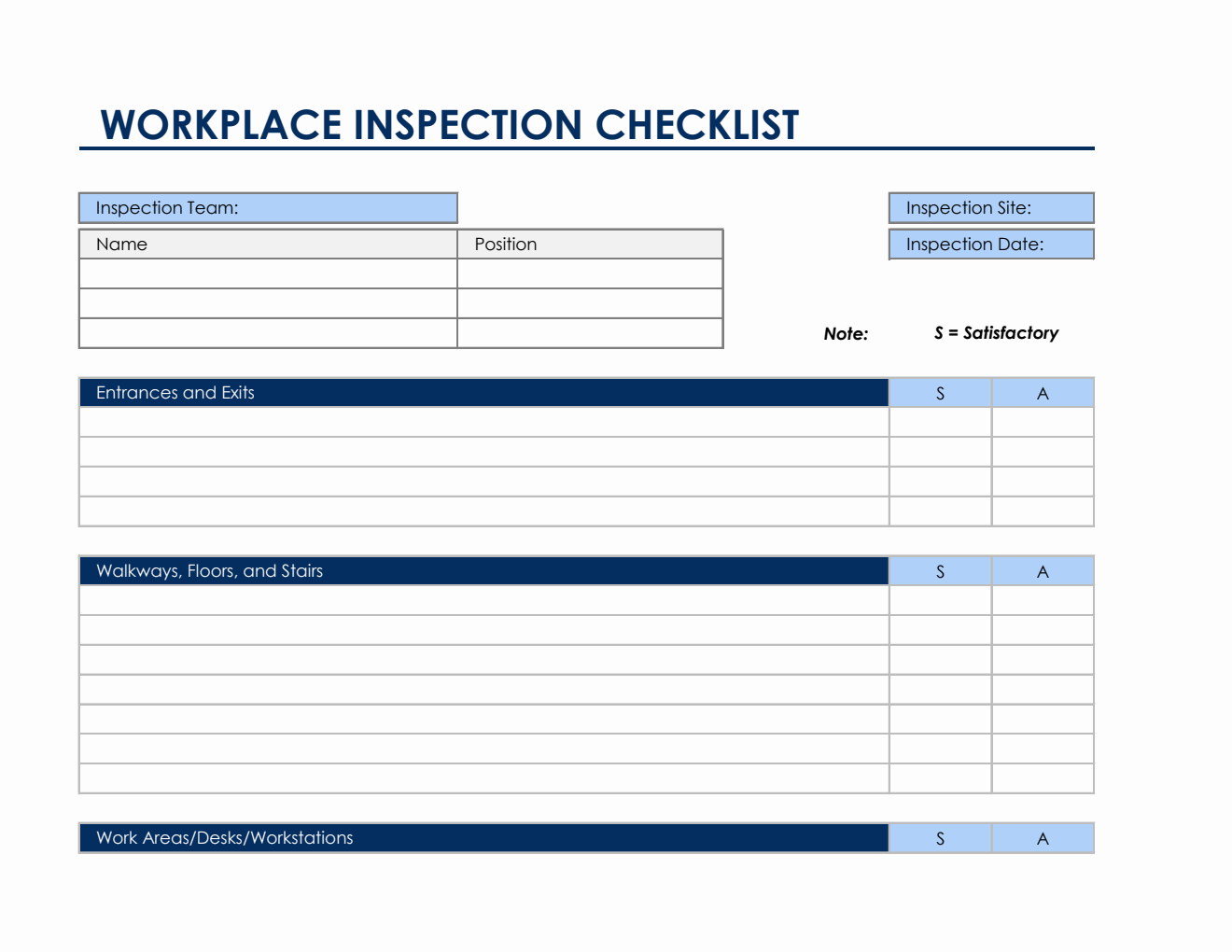 It is truly beneficial to have a checklist template you can use while doing a specific task/project. Checklist ensures that any checklist items you have listed have been completed. For those looking to use a blank workplace inspection checklist template, this template is designed for you. It doesn't have any workplace inspection details as it's only a sample format. However, labels/headings are provided as a guide on the main items you should include in the inspection.
This workplace safety inspection checklist template in excel is free to use or download. It features sections important to your inspection. The topmost part requires details involving the inspection team, which includes their names and position, inspection site, and inspection date. A separate table is highlighted underneath that which features several labels/headings. This is where you can enter the items needed to be inspected. These labels/headings include the following:
Entrances and exits
Walkways, floors, and stairs
Work areas, desks, and workstations
Security
Bathroom
Lighting, ventilation, and temperature
First aid
Emergency procedures
Electrical safety
Storage facilities
Hazardous substances
To complete, just list down the various items applicable for each label/heading provided. You can delete any labels that are not applicable for your inspection, at the same time, you can add rows/columns for any additional information.
Moreover, a separate section is provided where you can note down the condition of each listed workplace item. Upon inspection, each item should be marked S, A, or N/A based on its condition – S stands for satisfactory, A stands for action required, and N/A if it's not applicable. You can also add any notes/comments under the comments column based on the item's condition.
Edit, delete, or add rows/columns when using this inspection form template. Customize it according to your needs.