Biweekly Timesheet With Multiple Breaks in Excel
The free biweekly timesheet template in Excel format features multiple breaks – lunch break and two extra breaks. It is free to download, edit, or print.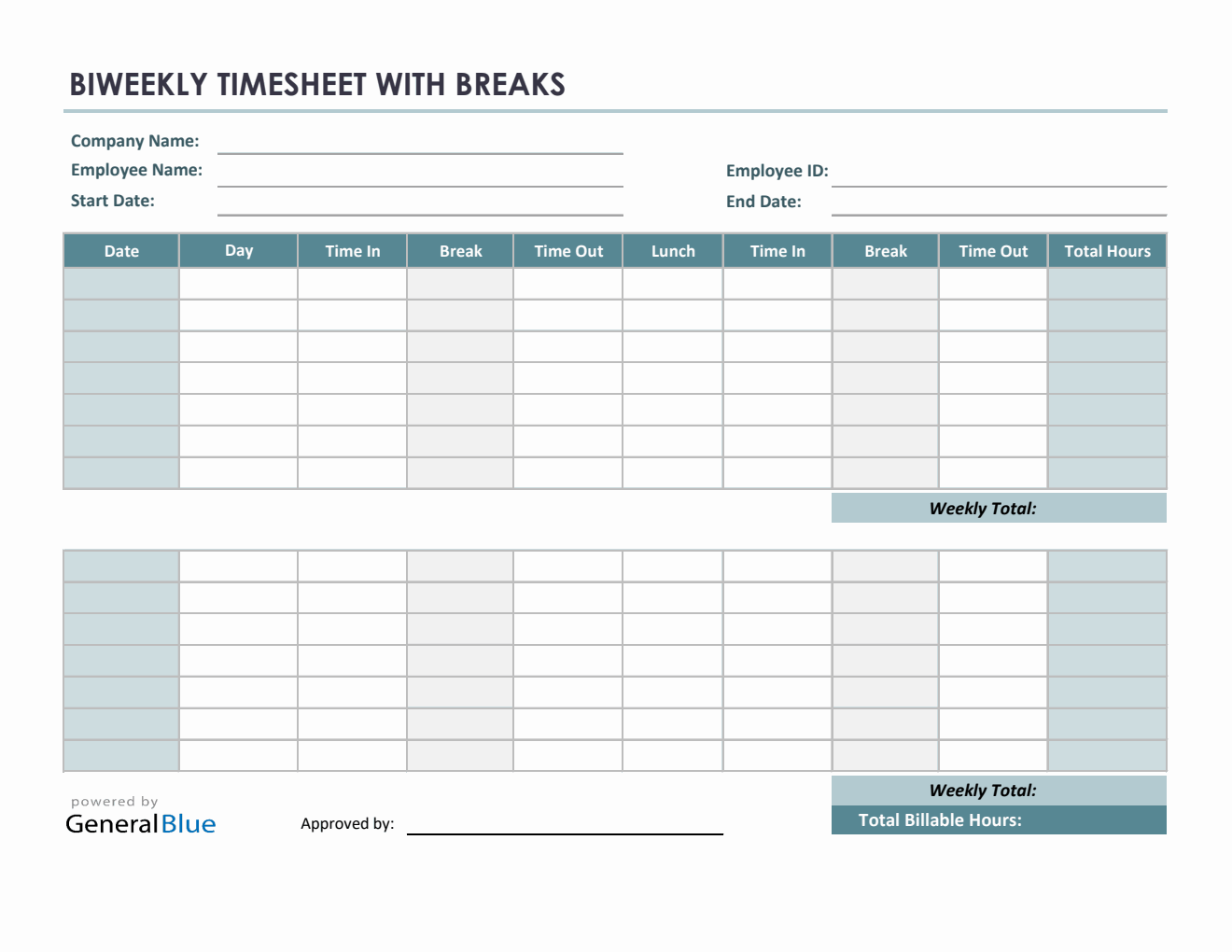 Having a timesheet has its own advantages. Aside from making time tracking much easier, it serves as a record of an employee's working time during a certain period.
If you are looking for a time card calculator with multiple breaks, this Excel timesheet template is for you. It features multiple breaks - one lunch break and two extra breaks. Other sections featured in the template include the company name, employee name, employee ID, start date, end date, date, day of week, time in, time out, total hours, weekly total, total billable hours, and approver's name.
The Excel timesheet is designed with formulas, allowing it to automatically calculate the daily total and weekly total hours based upon the time entry of the day. In the formula, the multiple breaks are excluded as it is considered unpaid, therefore, you can leave it blank, or put the number of minutes or hours in the break columns (e.g., 1 hour).
If this timesheet suits your needs, get it now. It's free to download, edit, or print. For your reference, see instructions provided below on how to use it.
Instructions in using the Biweekly Timesheet with Multiple Breaks:
Enter company name and employee details.

Enter start date of the work week. Once start date is entered, the remaining dates for the two-week period will be automatically generated, along with the end date.

Enter time in and time out details for each day in a sample format of 8 am or 8:30 am. When entering the time in and time out in Excel timesheet, make sure you put a space between the time and the word AM/PM for the formulas to work. Example format: 8 am, 1:30 pm.

If preferred, enter break time. Enter break time under Break and Lunch columns only if desired. Entering these details will not affect the calculation as this timesheet considers break hours unpaid. However, if you wish to add these figures, feel free to do so. You can input the break duration using this format (e.g., 1 hour).

Review, email, or print the completed timesheet.