Timesheet
Biweekly Timesheet
Employee Timesheet
Timesheet
Biweekly Timesheet
Employee Timesheet
Excel Templates
Biweekly Timesheet With Notes in Excel
This biweekly timesheet template is editable, downloadable, and printable in Excel format. It has notes section where users can edit and add comments or notes.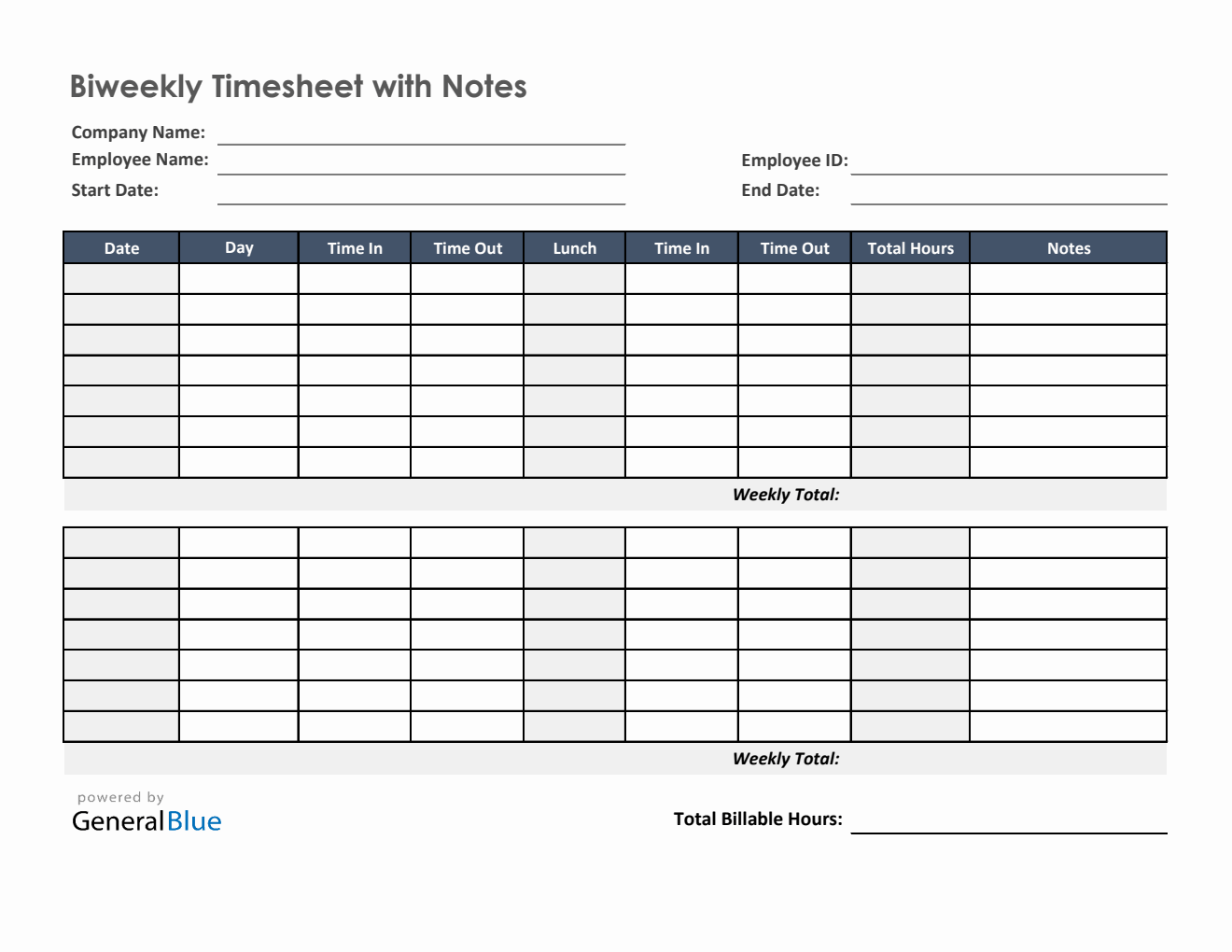 This biweekly timesheet is perfect for recording an employee's working hours within a two-week period. It specifically displays how much time is spent at work on a daily and weekly basis.
This biweekly timesheet with notes is editable, printable, and downloadable in Excel. It has sections for company name, employee name, employee ID, start date, end date, date, day of week, time in, time out, lunch, total hours, weekly total, total billable hours, and notes. The template features a column for notes to allow users to add comments or personal notes if necessary.
Use this simple time-in and time-out sheet to easily track your employee's working time. This version is formatted to autogenerate calculations, therefore, helping you save more time when time tracking. The featured formulas auto-calculate the total number of hours daily and weekly based on the time entry. Additionally, this timesheet considers lunch unpaid, so you can just skip that section, however, if preferred, you can also enter the lunch duration using this format (e.g., 1 hour).
If this template suits your needs, you can download it anytime. Instructions are provided below in using the timesheet.
Instructions in using the Biweekly Timesheet with Notes:
Enter company name and employee details.

Enter start date of the work week. Once start date is entered, the remaining dates for the two-week period will be automatically generated, along with the end date.

Enter time in and time out details for each day in a sample format of 8 am or 8:30 am. When entering the time in and time out in Excel timesheet, make sure you put a space between the time and the word AM/PM for the formulas to work. Example format: 8 am, 1:30 pm.

Add notes or comments if there's any.

Review, email, or print the completed timesheet.