Invoice
Freelance Invoice
Invoice
Freelance Invoice
Excel Templates
Invoice Template for U.S. Freelancers in Excel (Basic)
Create freelance invoice easily by using this editable and downloadable Excel invoice template for freelancers. It is available in multiple formats.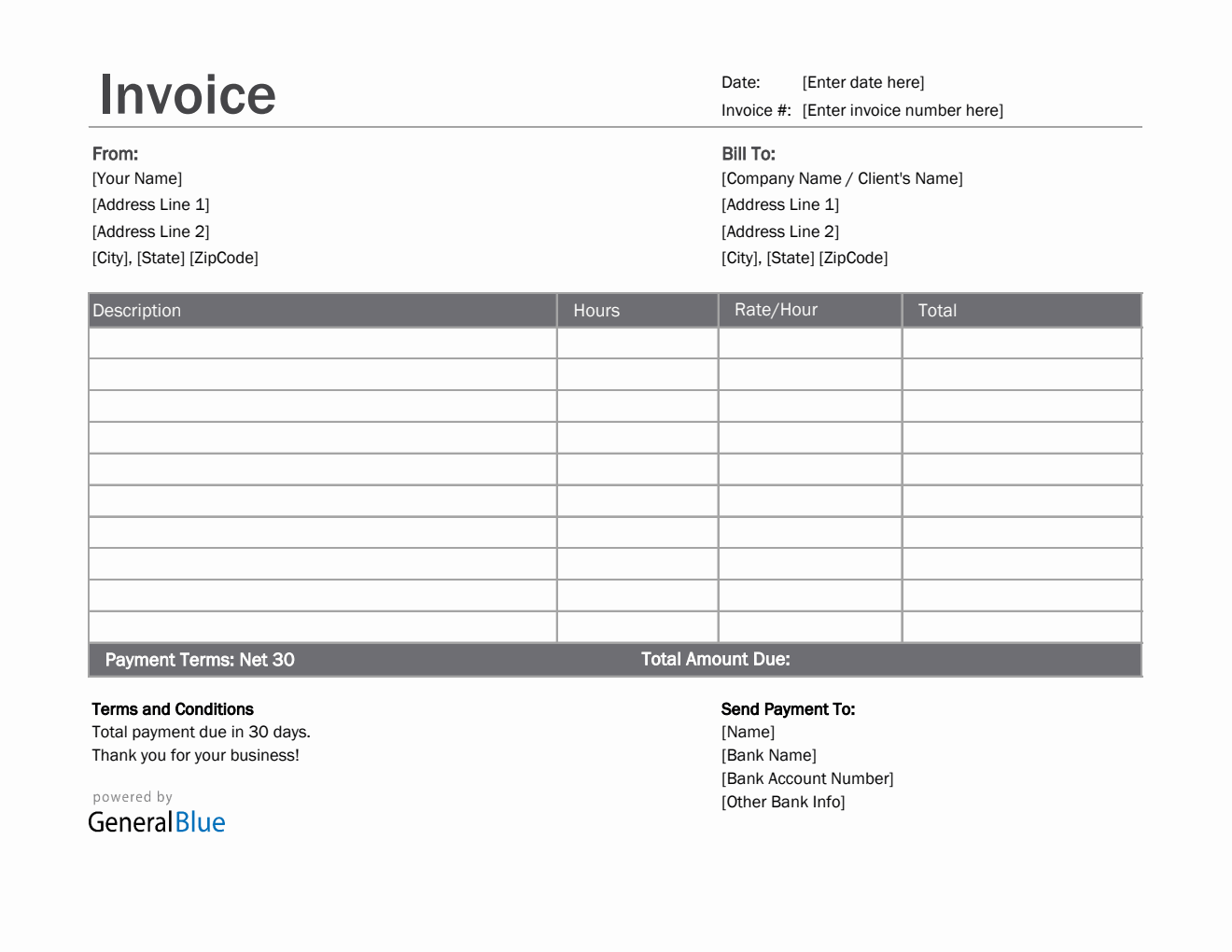 In doing business transactions, billing the client and payment processing are two of the most important areas. For freelancers, having an invoice for freelance work is very helpful as it makes things easier for both the freelancer who requested the payment and the client who will be paying for the work/services.
General Blue provides free Excel downloadable, editable, and printable invoice templates which you can modify easily. This template is in Basic design. It can be used by freelance graphics designer, freelance videographers, freelance copywriters, freelance writers, freelance interpreters, freelance web developers, freelance makeup artists, self-employed individuals, and freelance journalists, among many other freelance workers.
Since the template has built-in formulas, all sections needing calculations are autogenerated. The freelance invoice template Excel is the perfect version to use since you don't need to perform any manual calculations, allowing you to save time while creating your invoice. You can use this sample freelance invoice as originally designed, or you can customize it according to your needs. It has simple features, so customizing it can be easily done.
Sections featured in this freelance invoice template include the date, invoice #, where the invoice came from, bill-to address, description, hours, rate per hour, total, total amount due, payment terms, terms and conditions, and a section for the send payment to information. To use, just fill out details on the sections provided. Instructions are provided below for your reference.
Instructions:
Fill out the date and invoice number. This is indicated at the top section of the invoice template. Here, you need to indicate the date when the invoice is created, as well as the invoice number for your client. The invoice number usually starts with 1 and increments over time. If you have a long-term contract with your client, it is an essential part of your invoice as it helps in tracking all invoices.

Enter your company information. Enter your company name and business address in this section. It includes the street address, city, state, and zip code.

Enter the bill-to information. Enter the billing address of the person or company whom you have rendered your services to. The bill-to information includes the name (or company name) of your client, their address, city, state, and zip code.

List all the freelance work you have done for your client. Under the description column, list all the services you have rendered for your client as agreed prior to doing business. Each listed service should have its corresponding number of work hours, along with its hourly rate, entered on the same row.

Input the work hours and the rate per hour. After listing down all the freelance work, indicate here the total hours rendered and the hourly rate for each work/service. Once these details are entered, sections for the total, subtotal, and total amount due should auto-calculate.
To easily track hours, you can also use the free timesheet templates we provide.
Enter the payment terms. Enter the agreed payment terms between you and your client. Most common payment terms are Net 30 or Net 15. Net 30 means your client has 30 days to complete the payment, and 15 days for Net 15.

Enter your payment details. Some of the templates provided by General Blue includes section where you can indicate your bank information for online payments. It includes your bank account name, account number, and other necessary banking information you need to provide your client for payment processing.
If you prefer your invoice not to have the payment details and terms and conditions, just delete this section of the template. If you have a different means for payment processing that you like to include in your invoice, this is the section where you can modify, whatever applies for you.
Other Styles Available...