Printable Employee Timesheet With Signature in Excel
Track multiple employees' time in and time out hours using this free employee timesheet in Excel format. This template features section for signature.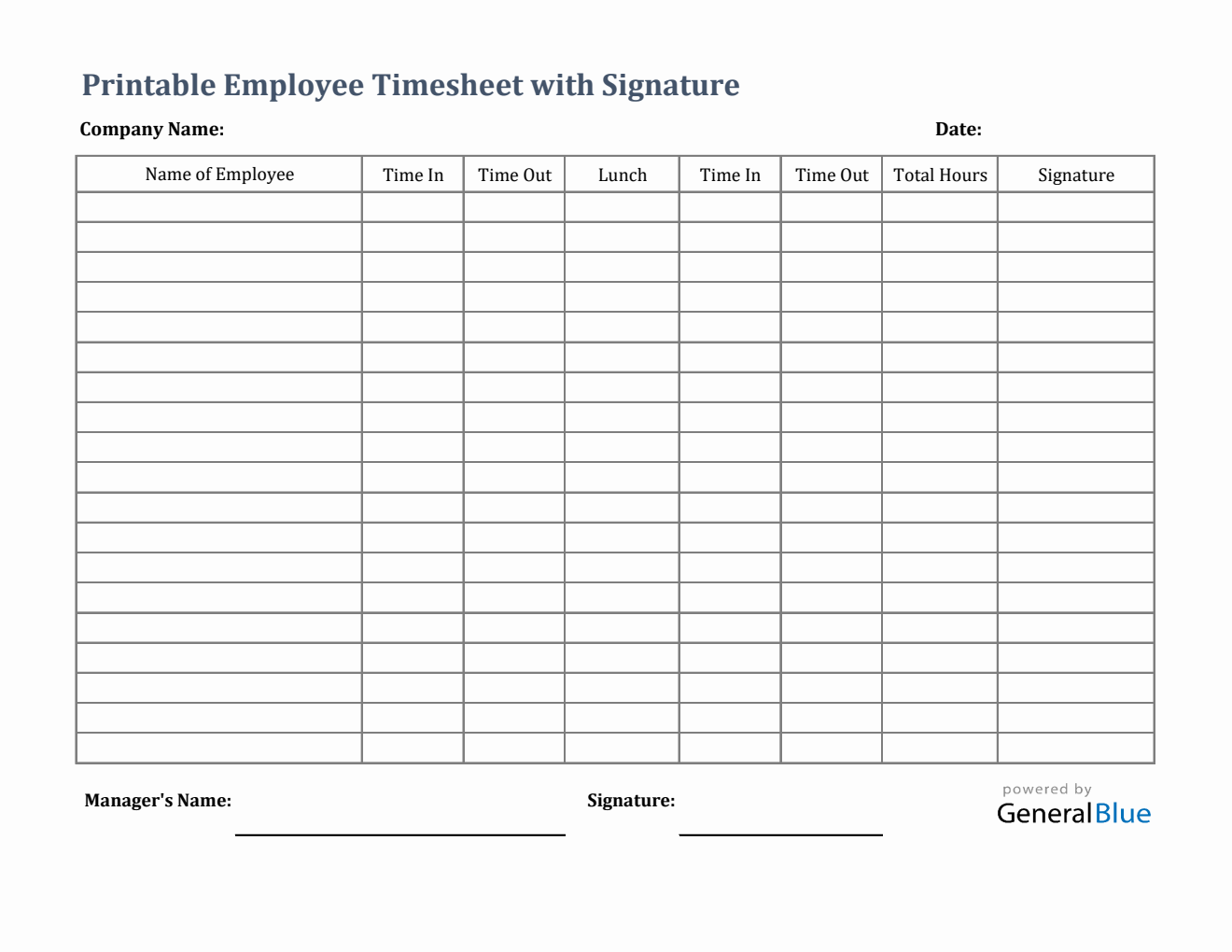 This printable timesheet can help track multiple employees' time in and time out hours on a daily basis. It features section for signature, allowing both employees and manager to affix their signatures for validation purposes.
This free time card is downloadable and printable in Excel. It is one of the simple timesheet templates provided by General Blue which is perfect for printing. Since it's devoid of colors, it can help you save ink/toner when printing. Print or download this blank time sheet anytime.
The free excel timesheet template for multiple employees features automated calculation for the employee's total hours based on the time in and time out details entered per employee. It also considers lunch unpaid, so you can either leave this column blank, or enter the number of minutes or hours (e.g., 1 hour), whichever you prefer. Whether or not you input your lunch hours will not affect the calculations of this timesheet.
To use this template, fill out details on the blank sections provided. It includes sections for company name, date, name of employee, time in, time out, lunch, total hours, signature, and manager's name. Instructions are provided below for your reference.
Instructions in using the Timesheet:
Enter company name and date.

List the name of each employee.

Enter time in and time out details for each day in a sample format of 8 am or 8:30 am. When entering the time in and time out in Excel timesheet, make sure you put a space between the time and the word AM/PM for the formulas to work. Example format: 8 am, 1:30 pm. Once these details are entered, the total hours will be auto calculated.

If preferred, enter lunch time. Enter lunch time under lunch column only if desired. Entering this data will not affect the calculation as this timesheet considers lunch unpaid. However, if you want to add these figures, feel free to do so. You can input the lunch duration using this format (e.g., 1 hour).

Attach signatures for validation purposes. Employees should affix their signatures on the same row where their names are listed for validation purposes. On the other hand, the manager should also attach his/her name and signature at the lowermost part upon approval of this timesheet.